Seal Smart™ Insulated Glass Packages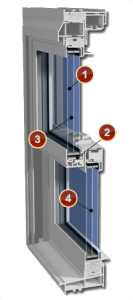 Much like the engine in your car, the insulated glass package that you choose for your windows determines much of the thermal performance and insulating power. To help homeowners select the right glass configuration, Michiana's Best Choice Windows uses the Seal Smart family of glass options. We will explain and help you determine the best choice for your home and your budget.
All insulating glass windows claim to save you money on energy costs. However, not all insulating glass windows are created equal. Our windows use the Seal Smart™ insulating glass, that can not only save you significant money on energy costs, but their warm edge design helps to make your home feel more comfortable too.
You can get the Seal Smart™ advantage utilizing the Intercept system from PPG, which is our standard. Or you can upgrade to the Intercept Ultra Spacer or Super Spacer™, a revolutionary structural foam spacer that provides even warmer edge of glass temperatures.
Components of an Insulated Glass Unit:
1) Dual and Triple Pane glass Options.
2) High Performance Spacer Options
3) Double stacked LowE2 Coatings
4) Argon or Krypton Gases
The Seal Smart Glazing System offers you a variety of glass configurations to meet your needs.
Seal Smart packages are as follows:
– Seal Smart Standard – two panes of insulated glass.
– Seal Smart PLUS – two panes of glass, one surface of double stacked LowE coating and Argon Gas.
– Triad A – three panes of glass, one surface of double stacked LowE coating and Argon Gas.
– Triad 7 (new) – three panes of glass, TWO surfaces of double stacked LowE and Argon Gas.
– Seal Smart Xtreme – three panes of glass, two surfaces of double stacked LowE and Krypton Gas.
---
Panorainbow™ Exterior Window Color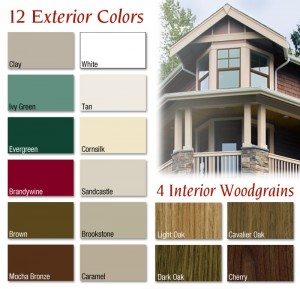 You are no longer made to choose between white and white! 12 standard exterior color options provide you with 72 total color combinations, in stock. In addition, we can custom color match!
Why would anyone want to limit their world, their decorating options to white?
With our exclusive Panorainbow™ Color System, we will paint the exterior of your custom made windows with an advanced polymer coating…specially designed for vinyl windows.
Imagine the magnificent pink and blue hues reflected against the wispy clouds caressing the beautiful Pacific Ocean as the foaming white waves lap the glistening sands of the shore. A fluttering butterfly with incredible vibrant yellow wings, framed in deep black with reds and brown interspersed, as the warm summer breeze caresses your face.
The satisfaction that you feel as you've just finished painting that extra bedroom. FINALLY! And you are adding the last of the decorator touches. Matching comforter and pillows, drapes and blinds, colorful walls with the extra accent wall too! Man are you good… the room looks great!
With the Vista Panorainbow colorization system, which combines 6 interior finishes with 12 exterior color choices, you can truly create the home of your dreams. When you select the Panorainbow option for your windows, we apply the finest exterior color option in the vinyl window business today! Our paint has been specially formulated for vinyl windows, engineered for maximum durability and heat reflectance.
Your world, Your family, Your home and Your life experiences are all in living color, why shouldn't your windows be???
---
Interior Woodgrain Finish Options

Selecting a woodgrain interior finish provides you with the ability to upgrade your new replacement windows to the look and feel of real wood.
Traditional wood casings blend into the fit and finish of our Panorama Series windows with your choice of four simulated wood laminates:
Light Oak
Dark Oak
Cavalier Oak
Cherry
It is often said that windows are really 'appliances'…and we agree! But they are also furnishings to our home. A woodgrain laminate finish can be chosen on a white or beige window, and combined with our Panorainbow™ Exterior Color System to give you the ultimate in design flexibility.
---
EEE-Z-KLEEN™ Hydrophobic Coating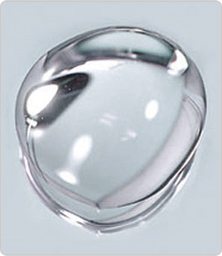 EEE-Z-Kleen is an advanced technology that opens a new chapter in maintenance ease and time saving along with glass clarity, visibility and strength. Besides all of this, EEE-Z-Kleen also enhances the appearance and prolongs the life of the insulated glass in your new windows.
Untreated glass, like the kind you get in regular window, is very rough and porous. Contaminates such as oil, hard water deposits, finger prints and even dust will cling to the surface. Water spotting can occur and end up becoming a permanent part of the glass.
Washing your windows using standard household cleaners that are commonly ammonia based can actually accelerate this condition. However, EEE-Z-Kleen glass ends all of these problems.
The EEE-Z-KLEEN process is a chemical treatment that makes the surface of the glass much, much smoother. Not only smoother, but more resilient.
The result is a glass surface guaranteed to stay more hydrophobic for 10 years. During that time…the glass will be much easier to clean. Do you still need to clean your glass? Absolutely. Many window companies have claimed "self-cleaning" glass options available. This is just not true.
Our unique process reduces the probability that dirt and other deposits can stick to your glass, because the microscopic peaks and valleys in the glass surface have been bonded and filled with our proprietary coating.
Technical Detail
Made of a 7 part polymer, the EEE-Z-KLEEN coating fills in the microscopic peaks and valleys on the glass surface. This chemical bond makes our glass more brilliant, more impact resistant and much easier to clean…for years to come.
Ultimate Comfort
Our windows and doors are rated among the most energy efficient products in the industry.
---
Enhanced Warm Edge Performance with Super Spacer™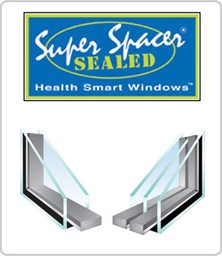 The insulated glass unit is the engine of your window. It drives thermal efficiency, lets in sunlight and protects you from harmful UV rays. Part of that engine is the glass SPACER. The glass spacer is what holds together the two (or three) pieces of glass that make up the "unit". Thus the term, Insulated Glass Unit (IG).
Michiana's Best Choice Windows is proud to offer you the option of upgrading to this revolutionary spacer, Super Spacer.
The key difference with Super Spacer, is that instead of being made of metal, it is made of a structural foam called a Thermoset. The thermoset structural foam design of Super Spacer provides a wide array of advantages over traditional metal spacers including thermal performance, sound deadening and long term durability during the hot and cold seasonal temperature cycles.
---
Mold: A Growing Concern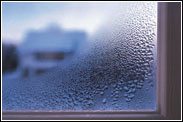 Mold needs moisture to grow. In order to keep moisture off the glass, your windows need to have the warmest inside surface temperatures possible.
Super Spacer provides a warm edge advantage over traditional metal spacers. This superior insulation means improved energy savings and substantially reduced condensation for overall window improvement.
Energy Efficiency
Think about what your windows go through. They have to face extreme temperature changes all year. Plus, they're bombarded with UV rays, barometric pressure changes and nasty winds.
Luckily, there's a simply way to give your windows an advantage in reducing energy costs, ensuring durability and adding comfort and value to your home.
It's foam – a unique formula we call Super Spacer.
Our windows and doors are rated among the most energy efficient products in the industry. The result of installing Michiana's Best Choice Windows is a healthy home environment.
Granger, South Bend, Elkhart, Mishawaka, Niles, Dowagiac, Edwardsburg